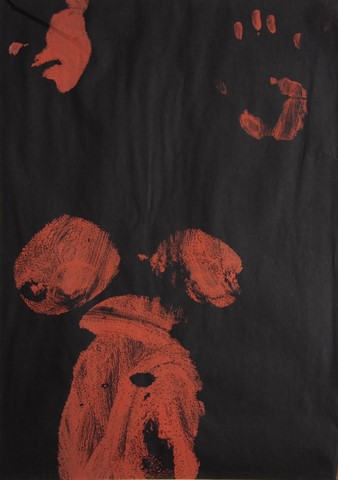 And so my journey begins…
Here I am at last.
Spilling Open on the page.
I first came across the work of Sabrina Ward Harrison several years ago.  I found her book in the National Gallery of Ireland's bookshop. My heart skipped a beat when I looked inside at her personal journalling work.  In it I saw myself as that young art student, hungry for life and experience.  I loved the titles of her books; Brave on the Rocks; Thrilling Messy Life.  Oh! just the thought of being able to make art without having to worry about making mistakes! It was exhilarating. I've bought many journals over the years.  Special ones.  Ones with nice covers.  But all of them were nearly too precious to use.  So they remained blank, like silent ornaments.  The very thing that is supposed to help an artist unfurl their creativity can indeed hinder that activity. The act of intuitive journalling has given me a chance to open up my own book and reveal the secrets of my own, maybe not so thrilling, but certainly messy, life!
Moving into light is taken from the Breaking Through Series.
vvvvvvvvvvvvvvvvvvvvvvvvvvvvvvvvvvvvvvvvvvvvvvvvvvvvvvvvvvvvvvvvvvvvvvvvvvvvvvvvvvvvvvvvvvvvvvvvvvvvvvvvvvvvvvvvvvvvvvvvvvvvvvvvvvvvvvvvvvvvvvvvvvvvvvvvvvvvvvvvvvvv
I decided to start the hundred day journalling project on my own, but pretty soon my mind started to send out feelers on the internet.  I had announced it on my facebook page and a couple of people showed some interest in doing a project for themselves.  Then, quite...